With development of motor market, coreless motor will be future trends. The coreless motor is a kind of permanent micro DC servo motor.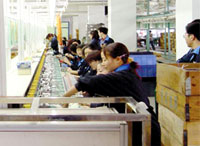 The coreless motor is with super advantage on energy saving, sensitive and easy to control, steady operation. Coreless motor work as high efficiency energy conversion facility, which leading the future motor developing trends. Shenzhen Shan Magnetism Industry Co., Ltd. is a corporation specialize in NdFeB magnets manufacture and development of electric motors. We now can provide various typical model coreless motor, the output power is from 0.5 watt to 50 watt.
Presently, the coreless motors are used widely in medical, measurement, laser equipment, robot and war industry. Our products sell well to America and Europe.